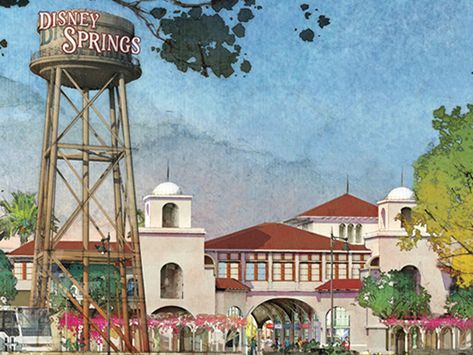 Disney takes story seriously, ensuring that every experience has one, whether it's a ride, show, or shop. When Walt Disney World announced last week that its popular Downtown Disney shopping and dining districts would be receiving a massive makeover transforming into a complex called Disney Springs, it followed in that tradition, telling a new story born of Florida's past.

This major expansion will see the overhaul of shops and restaurants as well as the addition of two parking garages and an emphasis on the historical Florida waterways.

Here is a slideshow of concept art courtesy of 'InsidetheMagic':



The overhaul will begin shortly and is expected to be completed in 2016. The makeover will nearly double Downtown Disney's size, featuring unique Disney venues coupled with high profile third parties. The replacement of former nightclub home Pleasure Island is at the forefront, becoming areas called The Landing and Town Center, featuring Spanish revival architecture amidst a retail setting with waterfront dining. But retail experts say the larger idea behind the revamped complex is about introducing a host of shopping and entertainment venues--not necessarily associated with theme parks--that will keep visitors from ever wanting to leave the Walt Disney World Resort. Or in other words, imagine shopping for an iPad or picking up the latest Dior lip color in between rides on Space Mountain, without even glancing at the rest of Orlando.

Disney's executive creative director Theron Skees likened the project to New York's Chelsea Market, formerly home to Nabisco bakeries, ultimately transformed into a sprawling venue for retail and restaurants. But he emphasized Disney Springs will also offer visitors a chance to rest.


"We want to be able to create these great locations where people have an opportunity to relax and get away from the harried hustle and bustle that sometimes people experience on their vacations."
Construction on the makeover begins next month. Despite much-hyped speculation about potential retailers, Disney isn't revealing which businesses will be included. Disney representatives say its not because they're unwilling to say; they simply haven't confirmed the retailers yet, and that negotiations continue. Companies like Dior, Coca-Cola, and American Girl are rumoured.
Adding to the convenience of shopping and eating at Disney Springs will be two new multi-story parking garages, adding more than 6,000 spaces to ease existing parking and traffic woes. Disney has declined to confirm rumors of an I-4 highway ramp being built for them.
So, looks like there's going to be a lot of change to the Downtown Disney you already know and love, but will this change be better? Are you looking forward to it? Let us know in the poll below!
Sources: [InsideTheMagic] & [Fox News]
Post a Comment